stimied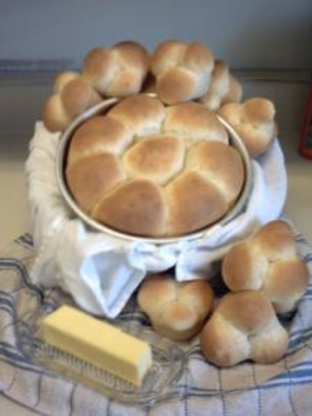 I have tried many roll recipes and never been completely satisfied but this one finally fits the bill! It is easy, no complicated ingredients, and the rolls rise up to make very fluffy bread. Thanks go to my aunt Joyce in Nova Scotia for this one.

I also had to add about 1 cup of extra flour to enable the dough to be pinched to make the rolls. Also after only an hour of rising the dough was crawling out of my kitchenaid mixer bowl. I was very impressed with the height of the rolls and they did taste very good.
Proof the yeast with a bit of the warm water and sugar in a small bowl.
Meanwhile, mix the flour, remaining sugar and salt together in a large bowl.
When the yeast is foaming and bubbling after a few minutes, mix it into the dough along with the two eggs, warm water and oil.
Knead the dough (it will be sticky) until smooth and elastic.
In a KitchenAid mixer this only takes a couple minutes on speed 3.
Let rise in a warm place for 1 1/2 to 2 hours.
Punch down and then shape into rolls and let rise again.
I like to make cloverleaf rolls with this recipe, which involves placing three balls of dough, no bigger than a ping pong ball, in a greased muffin cup.
Once the balls have risen again, brush with the beaten egg for a nice brown finish and bake in a hot oven.
The time will depend on the size, but mine take about 15 minutes at 200 C.