diner524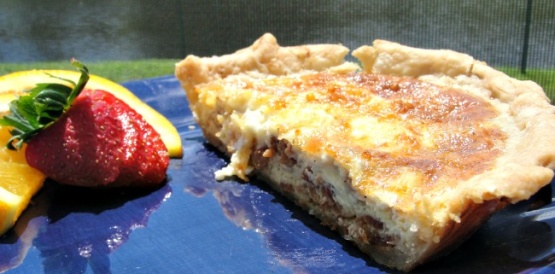 From Penzey's Spices and written by Howard Helmer, this recipe is so easy a novice can prepare it.

Delicious quiche! I didn't use a frozen crust, but did use a ready-made one. I also made this a bit "quicker" by using pre-cooked crumbled bacon. I also added 1/4 teaspoon grated nutmeg, because it is a flavor I like in quiche. Thanks for a quick, tasty dinner!
Preheat oven to 400°F Using a fork prick the inside of the frozen pie crust.
Bake for 8 minutes.
Remove from the oven and lower oven to 325F.
Meanwhile cook the bacon in a medium skillet on medium heat. Drain on paper towels.
Add chopped onion and salt and pepper to bacon fat. Saute over medium heat about 5 minutes.
Increase to heat to high and cook onions until golden.
Transfer onion to pie shell.
In a large bowl, beat the eggs with the half and half. Stir in the cheese and cooked bacon.
Pour this mixture into pie shell.
Bake until set, about 40 minutes.
Let stand 10 minutes before slicing.