Quick Caramel Coffee Ring
Tona C.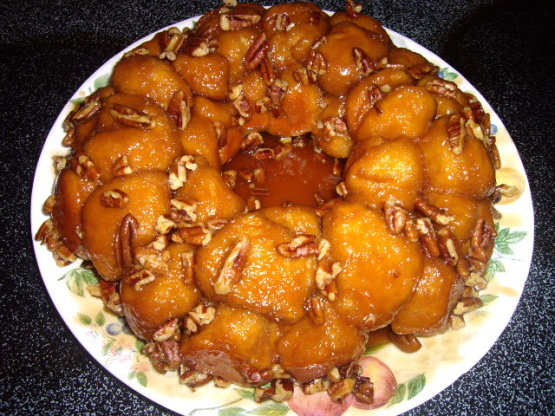 This is perfect for a lazy Saturday morning. Maybe hubby and the kids will serve you breakfast in bed ... from the kitchen of Debbie Vroom Thornburg, Fairview TN.
1⁄2 cup margarine
1⁄2 cup nuts, chopped

1

cup brown sugar, firmly packed

2

tablespoons water

2

(10 ounce) canshungry jack biscuits
Heat oven to 375 degrees.
In a small saucepan, melt margarine. Coat bottom and sides of ungreased 12 cup fluted tube pan with 2 tablespoons of the melted margarine.
Sprinkle 3 tablespoons of the nuts over bottom of prepared pan.
Add remaining nuts, brown sugar and water to remaining margarine. Heat to boiling, stirring occasionally. Remove from heat.
Separate dough into 20 biscuits; cut each biscuit in half and shape into a ball. Place 20 balls on bottom of prepared pan.
Drizzle half of the caramel sauce over balls. Repeat layers.
Bake for 20-25 minutes or until golden brown. Invert on wax paper immediately and remove from pan.