Annacia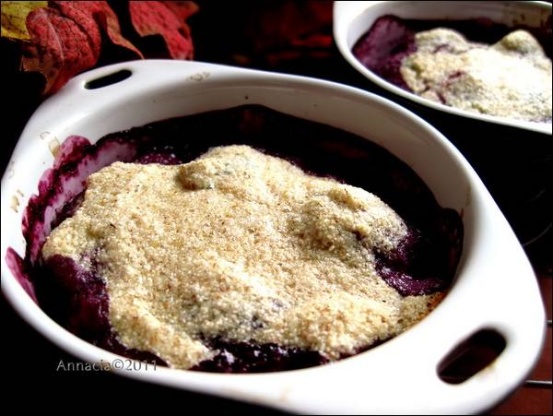 Being Anemic I did a search for foods high in iron and farina is one of them. I didn't make this yet, it does look good! Recipe courtesy Rocco Dispirito Show: Melting Pot Episode: Mediterranean--My Family Village You can use a single type of berry or a mixture. Sliced fresh peaches or nectarines are delicious combined with the berries. Or use peeled and sliced apples when berries are out of season. A scoop of vanilla ice cream is a delicious accompaniment. I think sundried raisins,cranberries,Dried figs,apricots and prunes would make a nice addition. Which are also high in iron.

i used blueberries, raspberries and strawberries. this was quick and easy but very sweet. i would suggest cutting the sugar to 1/2c and only using 5-6 tbsp of butter, i think it would still have the sweetness but not so overpowering. the topping is great, almost like a crispy shell over the fruit. i did sprinkle the top with cinammon. i will be making this again, next time using less sugar and butter.
Preheat the oven to 375°F.
Butter a round, 2-quart baking dish and pour in the fruit.
Mix the Farina, sugar, baking powder and salt together in a medium bowl.
Beat the egg with the vanilla and add it to the Farina mixture.
Mix well with a fork or fingertips until the dry ingredients are completely moistened.
Sprinkle the topping evenly over the fruit and pour the butter evenly over it.
Bake for 30 to 35 minutes or until the top is lightly brown.
Serve warm or at room temperature.