Quick and Easy Peanut Butter Pie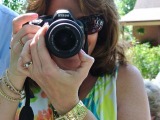 Adopted in the Great Zaar Adoption 2005. Cook time = Chill time.
Make and share this Quick and Easy Peanut Butter Pie recipe from Food.com.
Directions
Mix all ingredients, except chopped peanuts, until well blended.
Pour into Graham Cracker Crust and sprinkle with peanuts.
Chill 2 hours before serving.
Reviews
Most Helpful
I have made this same pie for years even though I only use 3 ounces of cream cheese. It is so easy to make. I have used the crunch peanut butter instead of just adding them on top, however the extra peanuts on top make a great presentation.


I've been making this for over 35 years, but I've found making my own regular pie crust instead of graham cracker is better and cuts down on the sweetness. I also top with my own whipped cream and shredded chocolate or glazed pecans. It's s show stopper!