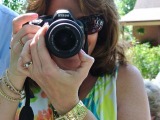 Nothing says AUTUMN quite like pumpkin with the warming notes of spices! A moist delicious bread that is wonderful "as is" or with cream cheese spread on it. YUM! I've also included healthier ingredient alternatives.
Directions
In a large bowl, combine sugar, oil and eggs.
Add pumpkin and mix well.
Combine dry ingredients; add to the pumpkin mixture alternately with water.
Pour into two greased 9-in. x 5-in. x 3-in. loaf pans.
Bake at 350 F for 60-70 minutes or until bread tests done. Cool in pans 10 minutes before removing to a wire rack; cool completely.
Reviews
Most Helpful
The first time I make a recipe I always make it as it is posted and I am so glad I did that this time because it is perfect! Great recipe--the only thing I would maybe do differently is add a little more spices (like slightly heaping) as a matter of personal taste and some vanilla but really the recipe is great as is! It is absolutely a great fall recipe and today was overcast and just felt like a baking kind of day...my house smells wonderful from this bread!

Made a bunch of changes, nothing too drastic. Put 1 scant cup brown sugar and 1 scant cup white sugar, used the 'alternatives', doubled the spices and added 1/2 cup oats instead of the last cup of flour, all of which was whole wheat. Oh, and I sprinkled in some ground flax. But the kicker was when I forgot to add the eggs and baked them into muffins, and they still turned out delicious! A little dense, but I certainly surprised myself!
I made this bread with the applesauce option and 1 cup brown sugar, 1 cup white sugar. I honestly felt a bit letdown, it just wasn't very "pumkin-ey". I made a cream cheese glaze which helped the bread a bit, but my vacuum cleaner hubby was the only one who really ate it.
Thanksgiving Tips & Ideas >