Pumpkin Cream Cheese Swirl Brownies
Brenda.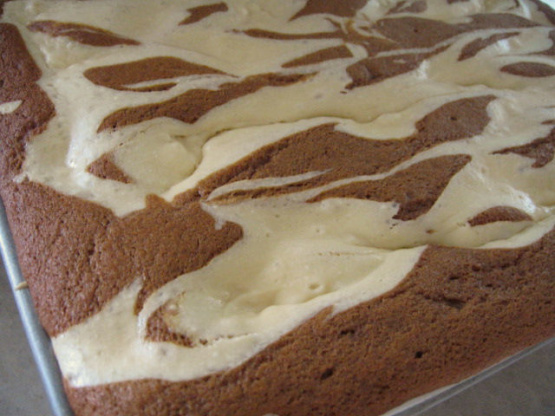 One of my favorite dessert to make around October. They are really just divine! They are a Cake-like pumpkin brownies made more interesting and flavorful with swirls of cream cheese batter.
These came out very tasty and moist. I used this recipe as an experiment for my diabetic husband and it came out great. I used butternut squash (that I roasted and cooled) and substituted various types of Splenda for the sugars and they worked well.
Butter and flour an 11x7-inch baking pan. Heat oven to 350°.
In a large mixing bowl, beat butter with brown sugar, 1 teaspoon vanilla, and 2 eggs until light and creamy. Beat in pumpkin puree. In another bowl, combine 1 cup of flour with baking powder, soda, salt, and spices. Slowly beat into the first mixture until well blended. Spread in prepared baking pan.
n a medium bowl, combine cream cheese, 1 egg, confectioners' sugar, 1/2 teaspoon vanilla, and 2 tablespoons flour. Beat for 1 to 2 minutes, until smooth and creamy. Spoon onto the pumpkin batter. Using a small narrow spatula or butter knife, swirl the cream cheese batter into the pumpkin batter.
Bake for 30 to 35 minutes, or until a toothpick inserted in the center comes out clean.