Ms B.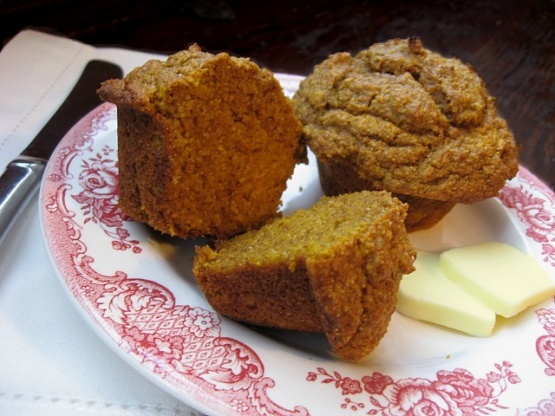 A really good breakfast (or snack) muffin. The cornmeal adds a different texture. I made these for a Thanksgiving brunch (with dinner served late in the day) one year and they disappeared!

Top Review by winkki
Mmmm, I've had these on my 'to make' list for way too long, and now that I've finally made them I'm kicking myself for not having done it before. They are dense and moist (I had no trouble with crumbling) and with a texture that reminded me of semolina. One bite I thought of them as sweet while the next bite I thought of them as savory; they would work equally well for breakfast or with a hearty soup for a simple dinner. I was out of ww flour so used white with no problems (and they did turn out much more of a pumpkin orange color than perhaps other reviewers found). They were great plain, with butter, or with honey or cinnamon sugar (my favorite). The kids went through the batch hand over fist and asked for more, lol. I think next time I might try using buttermilk as I love cornbread made with buttermilk; they seem to compliment each other well.
Heat oven to 350F.
Lightly coat muffin tins with vegetable cooking spray.
In a large bowl, beat the butter and brown sugar until light and fluffy.
Add the remaining ingredients and beat until smooth.
Spoon the batter into the muffin pans.
Bake 25 to 30 minutes or until a toothpick inserted into a muffin comes out clean.
Cool on a wire rack.