pammyowl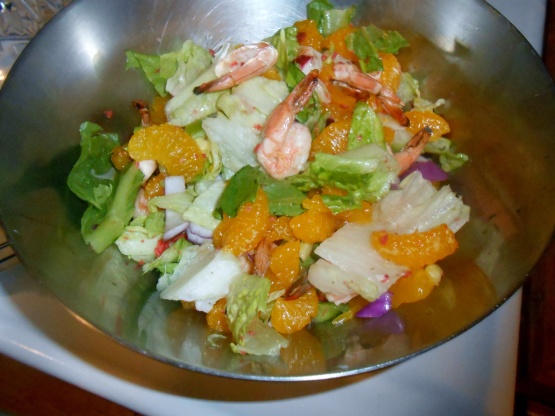 From Australian BH&G Diabetic Living issue 12 2007. Preparation does not include marinating time.

Wonderful salad! When I tasted the prawns straight off the grill I wasn't thrilled, thought they were too tart, but when tossed with the salad found the sweetness of the oranges were a perfect compliment to the tartness. I did not use the extra marinade in the dressing, frankly just forgot but didn't need it, the vinegar and oil were just perfect. Thanks for sharing, Pat! A keeper for sure!
In a small screw-top jar shake the orange juice, lime juice, Tabasco sauce and pepper to combine.
Place 2 tablespoons of the citrus mixture into a medium bowl and add the prawns and toss to coat.
Cover and put into the fridge for 1 hour to marinate.
Meanwhile if using wooden skewers, soak them in cold water for 30 minutes and then drain.
To make the dressing, in a small jug whisk the remaining citrus mixture, red wine vinegar, olive oil and sesame oil to combine. Set aside.
Preheat a barbecue grill or plate on medium.
Thread the prawns onto wooden or metal skewers, leaving 0.5cm between each prawn. Cook for 2 to 3 minutes each side or until cooked through.
In a large bowl toss the salad leaves, mandarin, capsicum (bell pepper), and red onion.
Add the dressing and toss to coat.
Divide the salad among serving plates and top with the prawn skewers.
Sprinkle with sesame seeds and serve with the bread.