Poulet Roti With Wild Mushrooms
chia2160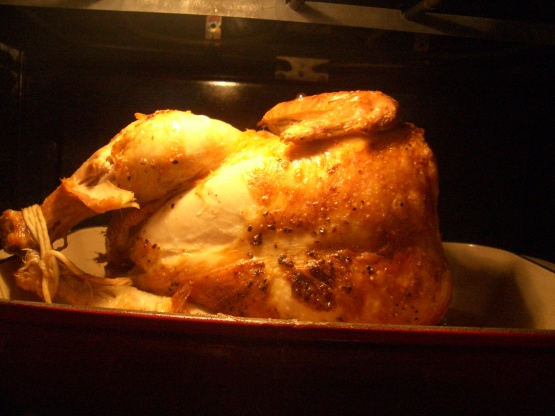 From Chef Rozanne Gold, a classic French roast chicken with a wonderful bonus--a mushroom sauce to die for, enhanced, if you like, with a bit of port wine. Delicious with a merlot or a white burgundy.

i generally enjoy gold's recipes and this was no exception. we cooked this in the french forum, it was easy to prepare with simple ingredients that produced great flavor, my famly loved it. i did use port for the sauce reduction, and a fresh kosher chicken that was slightly under 5 lbs. the cooking time was right on.
Preheat the oven to 425 degrees F.
Wash the chicken and pat it dry with paper towels.
Save the neck and gizzards, except for the liver.
Salt and pepper the chicken evenly and sprinkle salt and pepper in the cavity.
Soak the dried porcini in 2 cups of very hot water for 20 minute Drain them, saving the soaking water.
Saute the mushrooms in 1 tablespoon of the butter for 3 to 4 minutes.
Fill the cavity of the chicken with the sauteed mushrooms.
Truss the chicken and rub it with 1 tablespoon of butter.
Place the chicken, breast side down, in a heavy, shallow casserole and roast for about 20 minutes.
Reduce the oven temperature to 375 degrees, turn the chicken on its side and roast another 15 minutes.
Turn the chicken on its other side, roast another fifteen minutes, then turn the chicken breast side up, and finsh roasting for a total of about 1 1/4 hours ( skin should be golden and crisp, leg should move easily in its socket, and any juices should run clear)basting often (at least each time you turn it).
Meanwhile, put the gizzards and neck in a small pot with 1/2 cup water and the mushroom liquid, strained through a fine sieve.
Bring to a boil, lower the heat, and simmer 20 to 25 minutes until the liquid is reduced to 1 1/4 cups.
Pour the liquid through a strainer and discard the gizzards and neck.
Remove chicken from the oven, untruss, and put on a platter.
Scoop the mushrooms out of the chicken and put them in the roasting pan with the reduced mushroom juices and the port if you are using it. Reduce by one third.
Add salt and pepper to taste and whisk in 2 tablespoons cold butter until the sauce emulsifies.
Cut the chicken as desired and cover with the wild mushroom sauce.