dicentra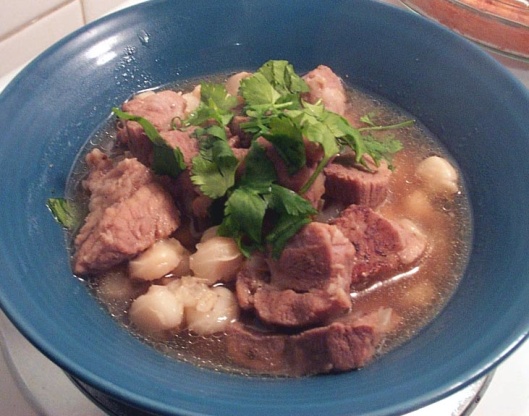 This is a traditional Mexican pork and homiy stew often served at Christmas time. At the table, pass bowls of chopped lettuce, sliced radishes, chopped onions, and shredded cheese.

I'm not entirely sure how to rate this. I really liked it, but DH didn't and DD wasn't too sure. DH thought the hominy was "weird". What? It's just corn. I omitted the cayenne and added an anaheim chili with the onion and garlic. I also used a little chicken broth with the water for just a little more flavor. I think if I make this again, I'll add cumin as well. The fresh cilantro is fantastic, don't skip it! I served this with cheddar-onion biscuits. The leftovers are in the freezer for my lunches later this week. Made for PAC Fall 2007.
Heat the oil in a large saucepan over medium-high heat. Add the pork, season with salt and pepper, and saute until browned, about 10 minutes. Add the onion, garlic, and chile pepper and saute until the onion is softened, about 3 minutes.
Stir in the water. Bring to a boil, cover, reduce the heat, and simmer until the meat is tender, about 1 1/2 hours.
Add the hominy and oregano and simmer for another 30 minutes.
Stir in the cilantro and serve hot.