Pork Chops With Stuffing and Green Beans
lazyme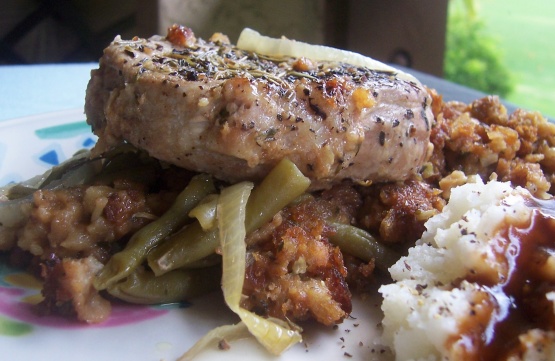 As with most of my dishes, this was born of lack of inspiration and sheer laziness. I had a yen for stuffed pork chops but not enough yang to actually make them. I found lots of recipes here for pork chops with stuffing but none with the green bean/onion layers which add moisture & flavor to the dish. Of course, the pan drippings left from browning would be a wonderful gravy starter if you're so inclined. This was an invention which pleased our palates immensely!
Preheat oven to 350º F.
Coat an 11"X7" baking dish with cooking spray.
Season both sides of pork chops with thyme, crushed rosemary & black pepper. **(note - I chose not to add salt as prepackaged stuffing mixes usually have a very high sodium content).
Heat a large skillet over medium-high flame & add the oil. When hot, add the chops. Brown 3-4 minutes per side.
Prepare stuffing mix per package directions. Set aside.
Drain green beans & spread in bottom baking dish. Distribute onion rings evenly atop the green beans.
When pork chops are browned, arrange them on top of onions.
Add stuffing mixture to dish, filling in spaces around and between chops.
Cover loosely with foil & bake 35 minutes. Remove foil & bake another 10 minutes or until meat is no longer pink in the center.
** Note - I used thick, boneless chops. If you use thinner ones, adjust bake time accordingly unless you enjoy dry pork!