Pork Chops With Mustard Sauce
chia2160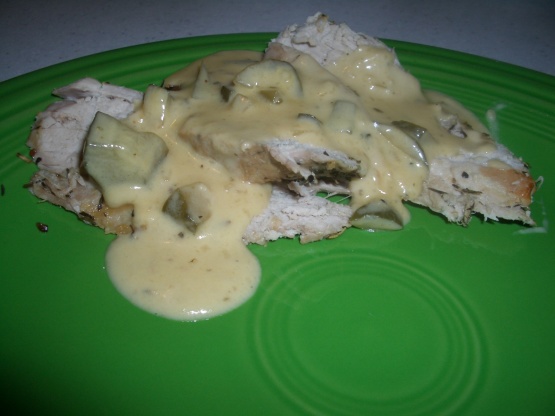 This is so easy to make and tastes just delicious with a fabulous sauce (try with scalloped potatoes!).

i made this using 2 pork tenderloins which i roasted in the oven but using some of the pan juices i made the sauce on the stovetop. personally i loved the sauce, it had a wonderful pungency due to the mustard, vinegar and cornichons. but it was a bit too much for the rest of my family, i guess they prefer milder tastes. personally i loved it!
Season pork chops with salt and pepper.
Melt butter in non-stick pan and fry pork chops about 7-8 minutes per side, until brown.
Remove from pan and add wine, apple juice, vinegar and a little sugar.
Boil on high heat for about 6 minutes.
Add cream, minced gherkins and tarragon.
Turn down heat and simmer 1-2 minutes.
Add mustard and whisk to dissolve.
Season to taste.
Serve pork chops napped with sauce.