Pork Chops With Creamy Applesauce
Rita1652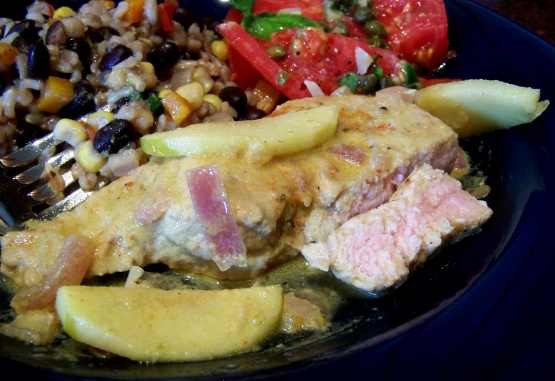 This is down-home enough to make a comforting meal, and definitely up-scale enough to serve for a fancier occasion. Reducing the sauce in the skillet the chops themselves have cooked in provides a lot of good flavour. I served this with steamed new potatoes on the side because the sauce went perfectly with the potatoes as well. Parsleyed mushrooms were also on the table and it was a wonderful meal!

I sauteed the onions for 2 minutes to flavor the 1 tablespoon of oil moved them to the side added the lean boneless chops browned and flipped topped with the onions, apples and sauce till chops were browned on the bottom toss all to coat chops and cooked till done about 10 additional minutes. The apple were firm the chops tender but we were not fond of the sauce. Thanks!
For Sauce: Combine all sauce ingredients (except fresh apple) together and whisk until blended. Store in refrigerator until ready to use.
To make pork chops: Pat chops dry and season with salt and pepper. Heat oil in a heavy skillet over moderately high heat until hot but not smoking, then brown chops, turning over once, 5 to 6 minutes total. Transfer to a plate.
Pour off all but 1 tablespoon fat from skillet and reduce heat to moderate, then cook onion, stirring occasionally, until softened and golden brown, 2 to 4 minutes.
Return chops to skillet along with any juices accumulated on plate, then add sauce and simmer, covered and without turning, for another 5 to 6 minutes. Transfer chops to a clean plate. Keep sauce in skillet.
Add sliced apple to sauce and simmer, uncovered, stirring occasionally, until liquid is reduced, 4-5 minutes. Taste sauce and add salt and pepper to taste.
Serve, spooning sauce over chops.