Pork Chops With Cider Sauce
Prep 15 mins
Cook 25 mins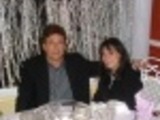 You can use cider for more than just drinking. Adapted from Good Food Magazine, October 1987.
Directions
Heat oil in large heavy skillet over medium-high heat. Add pork chops and cook, turning once, until cooked through, about 6 minutes each side. Remove chops to serving platter and keep warm.
Add garlic and shallots to skillet and cook, stirring constantly, 1 minute. Pour in cider and applejack; cook over high heat until thickened, about 5 minutes. Add vinegar, thyme, Dijon mustard and salt and pepper; stir until completely blended. Spoon sauce over pork chops and serve at once.
Reviews
Most Helpful
I usually don't like to cook things on the stovetop because its so messy. However I found this recipe in a magazine and it looked simple enough. It was very easy and so tasty!! The sauce was delicious, just make sure you cook it long and high enough to reduce a bit. I will definitely be making this again. Yum!
Can't believe that I forgot to review this recipe right after making it, but am back here to correct that oversight! We really, really enjoyed the flavor of these chops & will definitely be making them again! And considering the previous reviewer's little problem, I strongly suggest heating the sauce for a full 8 minutes or so on the highest of high heat (which is what I did), & the sauce should be just right, in my humble opinion! Many thanks for sharing the recipe!
These were tastey and the sauce made the dish. The only thing that I didn't like is that the sauce didn't thicken up like I expected. Next time I will let it cook longer and see if it will reduce more. I also put the chops back in the sauce at the end to heat and absorb the sauce. Made for PRMR.