Pork Chops With Cider Sauce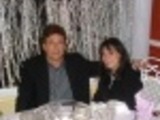 You can use cider for more than just drinking. Adapted from Good Food Magazine, October 1987.
Make and share this Pork Chops With Cider Sauce recipe from Food.com.
Directions
Heat oil in large heavy skillet over medium-high heat. Add pork chops and cook, turning once, until cooked through, about 6 minutes each side. Remove chops to serving platter and keep warm.
Add garlic and shallots to skillet and cook, stirring constantly, 1 minute. Pour in cider and applejack; cook over high heat until thickened, about 5 minutes. Add vinegar, thyme, Dijon mustard and salt and pepper; stir until completely blended. Spoon sauce over pork chops and serve at once.