Derf2440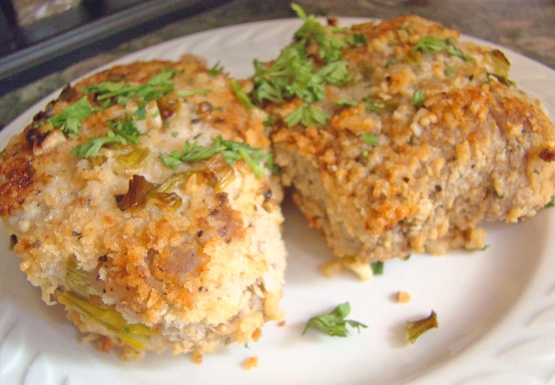 Gives pork chops a great flavour! From "1001 Low Fat Recipes", altered to suit our household. You can make these quicker by turning up the heat, but be very careful! The coating will burn very quickly!

Top Review by Bergy
Very good flavor I enjoyed my dinner. I used fresh grated parmesan but I should have grated it finer - if it is coarse you have to watch very carefully that it doesn't burn even tho it is mixed with the cornmeal. I had the heat set at 5 (right in the middle) to begin then turned it down a bit more to finish cooking. I borrowed an idea from recipe#21761(Brussels Sprouts in garlic butter by Tracey) and decided that they would do great in the pan with the garlic, chops and green onions and put the sprouts right in the pan - it was wonderful. I used 2 cloves garlic and served the chops with new potatoes, baby carrots, brussel sprouts and the great green onions. Thanks Sarah it's a keeper
3

tablespoons cornmeal or 3 tablespoons breadcrumbs

1

tablespoon parmesan cheese, grated
1⁄2 teaspoon black pepper
1⁄2 teaspoon Mrs. Dash seasoning mix (original flavour)
1⁄2 teaspoon basil

4

pork loin chops, about 1/2 inch thick
cooking spray

3

green onions, chopped

1

clove garlic, minced

3

tablespoons parsley, chopped

6

cups egg noodles
Combine cornmeal, Parmesan cheese, pepper, Mrs.Dash, and basil.
Trim pork chops of visible fat and dredge in mixture.
Coat skillet with cooking spray and put on medium heat.
Put chops in skillet and reduce heat to medium low.
Saute 10 minutes each side.
Add onion and garlic.
Continue sauteeing another 10 minutes, stirring to prevent sticking.
Sprinkle with parsley to garnish and serve over noodles.