lazyme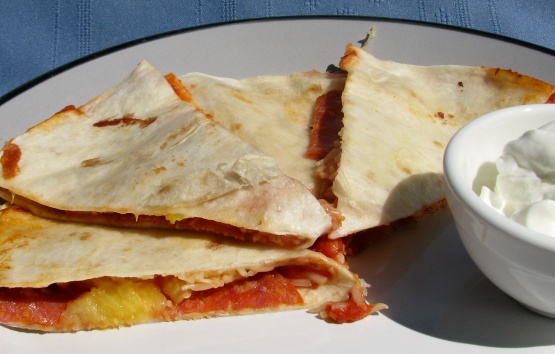 This is one of those recipes that is so quick and easy that I have been using it for years now without needing to take another look at it. So I can't figure out where I originally got the idea. Delicious and easy to adjust to your tastes!

Top Review by Katzen
These are so delish! DSO (ha!) makes Tortilla pizzas, but I liked these even more. You could pile them up if you wanted, and you didn't need to heat up the oven, either. These also held up so much better for lunch the next day! I usually eat half for dinner, and the other half for lunch. Thanks for the awesome recipe, Starry! Made for Veggie Swap #61.
Spread pizza sauce on one tortilla.
Sprinkle with cheese.
Add toppings of your choice, or add some extra cheese and keep it simple.
Top with second tortilla.
Spray the outside of the pizzadilla with spray butter or non-stick cooking spray. I find it easiest to spray the pan, place the pizzadilla in the pan, and then spray the top side, so that all of the ingredients won't fall out trying to juggle it.
Cook until golden brown and cheese is melted in a pan over medium heat, flipping once.
Cut into wedges. Use remaining sauce for dipping!