Pizza Topping - Smoked Salmon Pizza
ImPat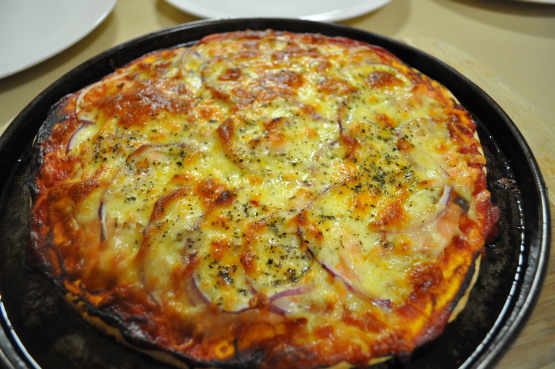 We often have pizza nights and our guests are encouraged to tell us in advance their favourite topping so we can shop up. I have a whole bench with different toppings and already made bases, we use Pizza Dough (For Bread Machine), our guests then dress their own pizza. We have come up with really good flavours and some flavours that are only meant to be made once. This pizza was one of the inventions founded by a few people. Capers may be salty so don't add salt until you sample the cooked pizza first.

So glad I tried this as it certainly got us out of the pepperoni rut we've been in for a while. Hubby balked at first but after a few bites settled down and did great justice to this new pizza. I used recipe#267552 to add your toppings to. Made for RS#46.
Pre-heat oven at 190oC/375oF/Mark 5.
Add tomato sauce on prepared pizza crust/pizza base if it already doesn't come with tomato sauce.
Scatter one layer of smoked salmon evenly on tomato base (more if you prefer), scatter red onions, cheese, capers, tear or sprinkle basil around pizza.
Bake in oven for 15 mins or until base is cooked and topping heated through - Enjoy.