ImPat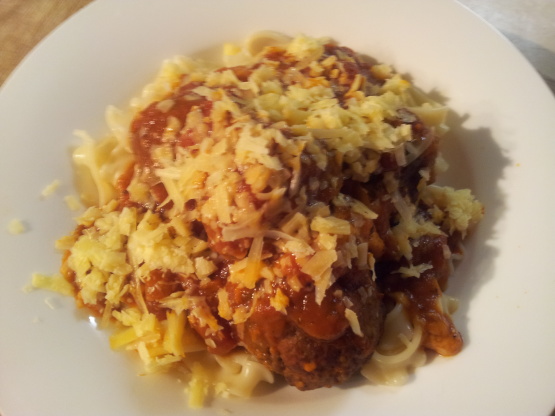 I served these for dinner over spaghetti with a salad. Boy, were they good! Loved it with both types of cheese. Great appetizers too!

Top Review by ImPat
I did omit the instant minced onion and as I have an aversion to fresh breadcrumbs in my meatballs or meatloaf (don't like having those little bit of bread in the mix) I toasted my wholemeal/wholegrain bread to dry it out and then processed in the food processor to a fine crumb and used that with a very low fat mince and consequently really only needed half the amount along with the egg and salt and pepper to get the texture I thought was right. I got 13 meatballs (50 grams each) which was more than enough for 3 of us (had 4 left over) and I used up what cheeses I had on hand (Monterey jack is not available to us) which was mozzarella for the meatballs and a mild cheddar to top the dish and I also used a Jensen's Organic Basil and Tomato sauce for my spaghetti sauce and cooked as directed but just allowed some extra time on the meatballs as I had made them bigger than specified but we thoroughly enjoyed the gooiness of the mozzarella cheese and the sauce that flavoured the spaghetti, thank you keen5, made for Name that Ingredient tag game.
Cut part of cheese into twenty to twenty-four 1/2-inch cubes.
Shred remaining cheese and set aside.
In large bowl, with fork, mix well all remaining ingredients except salad oil and spaghetti sauce; shape some mixture around each cheese cube to make 1 1/2-inch meatballs.
In 12-inch skillet over medium-high heat, in hot salad oil, cook meatballs until browned on all sides.
Spoon drippings from pan; add spaghetti sauce.
Reduce heat to low; cover and simmer 10 minutes.
Sprinkle meatballs with reserved shredded cheese.