Pisto (Spanish Vegetable Stir-Fry)
WiGal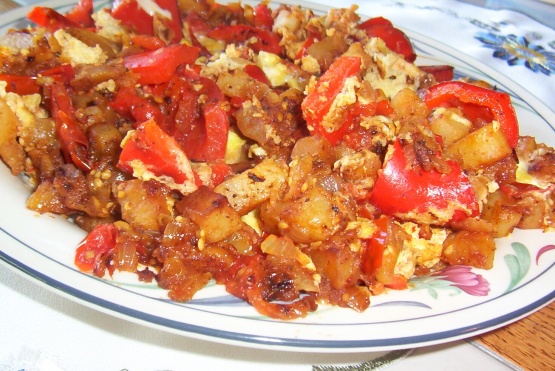 This is a classic dish from Spain. In many regions, 2-3 lightly beaten eggs are stirred into the pan when the vegetables are almost cooked.

Made without the bellpeppers due to food allergy. Loved it! Very soft and creamy tasting - I think from the potatoes? Didn't do the egg this time.
Heat the oil & garlic in a large frying pan over medium heat.
Saute the potatoes for 8-10 minutes or until lightly browned.
Add the onion & bell peppers and cook for 8-10 more minutes, or until the onion is lightly browned.
Add the zucchini & eggplant & cook for additional 5 minutes then add the tomatoes.
Season with the spices, pour in the water, & cook for 10-15 minutes more or until all the vegetables are tender.