2Bleu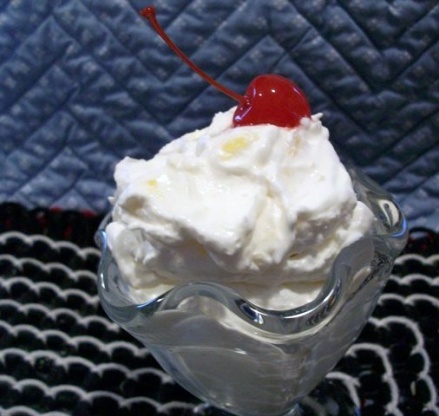 When I was growing up my mom used to make a pineapple sherbet & freeze it in long metal trays used for making ice cubes. This recipe approximates her recipe of years ago. Preparation time does not include the time it takes to partially freeze & refreeze the sherbet.

Top Review by WiGal
Featured in my Book#237470. Originally reviewed on Apr. 29, 2008. I served this in martini glasses and DH raised his glass after tasting this divine dessert and said "This is fit for royalty." If I could rate it higher I would. I did not change a single ingredient or amount. I zested the lemon (using 1/3 cup sugar from the original 2 cups stated in directions) the same way as Mugifer suggested, making it super easy! For step 2 I used a three quart saucepan on medium heat for less than 5 minutes and cooled for 20 minutes. I put juices into the same saucepan for step 3. Because I did not have any ice cube trays, I used 3 metal bread pans for the first freezing process which took about 90 minutes but that would vary with the thickness of the batch. I think it should have been divided between 5 pans instead of 3. For the second refreezing I waited 2 hours. I also chilled the bowl and beaters before every mixing. On the second beating (of sherbert) I could not fit the entire batch into the bowl. Thanks Sydney Mike for sharing a super recipe! Made for 1-2-3 Hit Wonders. Update--made a half batch in blender, did not cook. Could not churn it all in ice cream maker so put in rest in smaller containers and froze prior to churning, defrosted in fridge, churned and tastes great!
From the lemon remove the zest & chop the zest fine, then squeeze juice from the lemon.
In a small saucepan, heat sugar, half-and-half & zest until sugar is melted, but DO NOT BOIL. Set aside to cool.
When sugar mixture is cool, add lemon juice & pineapple AND the pineapple juice.
Freeze only until it is frozen an inch or so out from the edge.
Spoon the partially frozen mixture into a mixing bowl & beat with electric mixer, before folding in whipping cream & mixing well.
Spoon the sherbet back into the freezer trays & partially freeze again, then beat again & refreeze before serving.