Pineapple Buttermilk Sherbet
Bobtail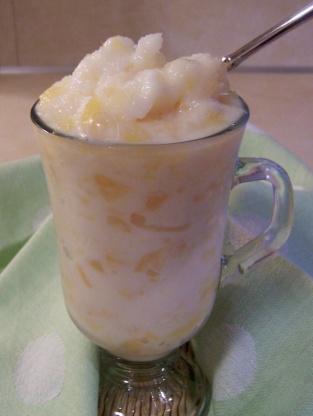 This simple and delightful sherbet requires no special ice cream-making equipment-just a fork. It has a tangy flavor and gives the illusion of rich creaminess. The sherbet will keep, stored in an airtight container in the freezer, for 1 to 2 weeks. Cook time is freezing time.

This was quite good, but I used this recipe to take my brand spanking new ice cream maker on its maiden voyage. I used pureed fresh pineapple, instead of canned, and the result was too sweet. I added 1 Tsp of sour salt (citric acid) to compensate for the sweetness, though you could use fresh lime juice. This was good enough, that I'm going to make it again with the other half of my pineapple as soon as the ice cream maker refreezes!
In a bowl, stir together the buttermilk, pineapple, and sugar until the sugar has dissolved.
Cover the bowl with plastic wrap and place it in the freezer.
After about an hour, when the mixture has begun to harden, stir it with a fork until it becomes slushy.
Cover and return to the freezer for another hour or two, until it is very stiff but not frozen solid.
Stir it again with a fork and serve.
If the sherbet has frozen hard, remove it from the freezer to soften for about 30 minutes before serving or whirl it in a food processor, scraping down the sides several times, for about 2 minutes, until well blended and smooth.