gailanng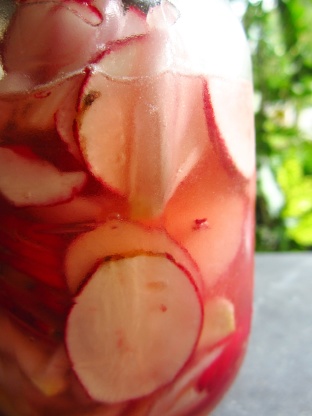 From Better Homes & Gardens, this is easy and tasty! Cook time is chill time.

Very good as it is, but because I've made this recipe before, I changed it up a bit...added sliced carrots to the radishes & onions. I also added crushed red pepper to play off the sweetness. Some oregano, dill seed and mustard seed to finish it off. We pack all veggies into a large jar then fill with the vinegar/spices mix.
Slice radishes by hand or use the slicing blade of a food processor. Place radish slices and onions in a large bowl or crock. In another bowl stir together vinegar, sugar, and salt until sugar is dissolved. Pour over radish mixture.
Cover and refrigerate at least 8 hours or overnight before serving. (Radish mixture will have a very pungent aroma.) Makes 2 cups.