teresas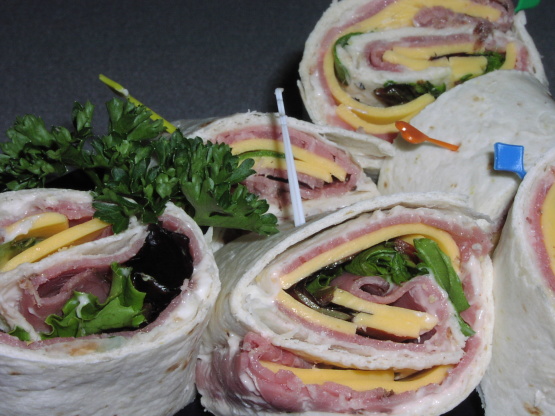 This was the first wrap that I ever made, and it's a winner! Cooking time includes chilling. From Southern Living Magazine.

Wow! I love the kick that these guys have. I cut the recipe down to serve 2 and because my tortillas were 8 inch size I used 3 of them. I have one left over for DH lunch today. He really enjoyed these. I used spring mix for my lettuce because that's what I had available. Thanks for posting. :)
Mix sour cream, mayo, onion, horseradish, salt & pepper in a small bowl. Spread this mixture evenly over one side of each tortilla.
Top each tortilla with 3 slices beef, and 2 slices cheese. Sprinkle each one with lettuce.
Roll each tortilla tightly, and wrap each one securely in plastic wrap. Chill 8 hours.
To serve, slice each wrap into 2 or 3 pieces.