Pesto Cream Cheese Spread
Jubes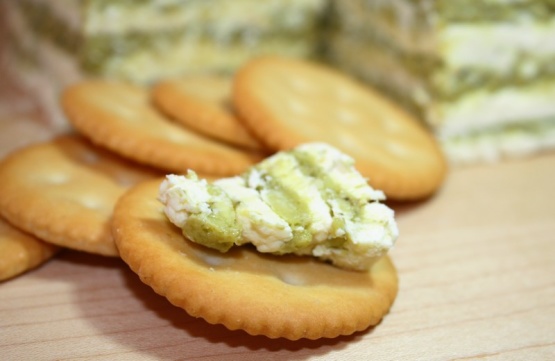 This is a wonderful spread to take to a finger food fellowship or potluck. Serve with veggies or crackers. Prep time does not include set up time in refrigerator

So I completely forgot that this was supposed to be a layered spread when I saved this to my bridal shower menu. I didn't have the time to layer it, so I just threw it all together and whipped it up. I didn't give any stars, just because I didn't make the recipe as intended, but it was still great! One of the ladies at the shower had never had pesto before and LOVED it. I'll have to make it again, as intended.
Line a 5-3/4x3" loaf pan with plastic wrap.
In a small bowl, combine cream cheese and garlic powder until well blended; set aside.
In a bowl, combine Parmesan cheese, butter and pesto sauce until blended.
Gradually stir in olive oil.
Spread about 1/4 cup cream cheese mixture into prepared pan.
Carefully spread with 1/3 pesto mixture.
Repeat layers twice.
Top with remaining cream cheese mixture.
Cover and refrigerate at least 5 hours.
Un-mold; serve with crackers and veggies.
NOTE: to get nice layers refrigerate first cream cheese layer until firm then top with even layer of pesto mix. Refrigerate after each layer.