Persian Apricot Rice Pudding
katew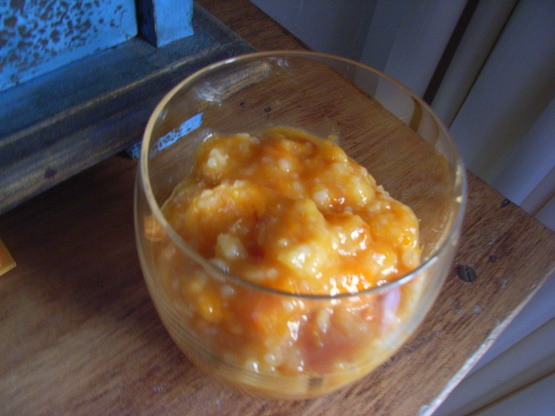 I found this recipe online,anf had to post it here.I really really,really love recipes like this. My dad is from England,so he loves his rice pudding,and this is a really,nice twist on the plaid version! Hopefully,you and your family or guests will enjoy it as well! 8) (Prep time includes refrigerating)

Top Review by katew
I used white rice and re the cooking time - I feel there must be a typo - may be the poster of the recipe meant 15 minutes instead of 5. No rice, let alone brown can be cooked in 5. I took this into consideration and cooked mine for 15 minutes after seeing white hard crunchy bits after 5. With the longer cooking and my homemade apricots there was a great result - a bit like risotto meets custard.
Have a 1qt.
shallow bowl handy.
Put the rice in blender,blending until fine.
Pour into small bowl,add cornstarch& water,stir to dissolve the cornstarch.
Pour the drained apricots in blender,and blend until smoothy.
Add just enough milk to total 4 cups (approximately 2 cups milk.).
Pour into a small saucepan& add sugar& the rice mixture.
Over medium heat,stir constantly,until it comes to a boil.
Cook and stir for 5 minutes.
Remove from heat& stir in extracts.
Stir to blend.
Pour pudding into a bow,and allow to cool at room temperature for 1/2 hour,Then chill.
When pudding is cold,serve.