Bergy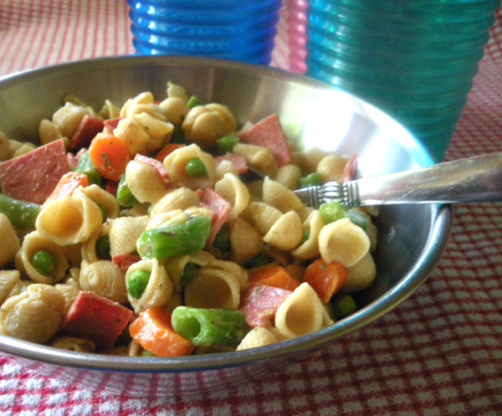 Colorful, healthy salad. Have this salad as one to be served along side a green salad and your favorite BBQ. Do not mix your meat and Yogurt dressing with the pasta ingredients until you are at your picnic- it only takes a minute to toss them together. I recommend that you use "HOT" pepperoni sticks not the usual pizza pepperoni. If you don't like too much spice use medium pepperoni but this salad is meant to be spicy or it will be boring. If you do not want to be bothered roasting your garlic just crush it and saute it in a tsp butter for 3 minutes. I say 6 servings this would be as a side salad and depends on the appetites of your group

The amount of veggies made this a very colorful salad. It was served alongside hamburgers on July 4th. I made everything ahead as recommended & stirred together just before serving. The spicy elements did carry thru, but I thought it needed additional creaminess and would have benefited from some salt & pepper. Thank you for sharing your recipe!
Cook your pasta according to instructions, rinse in cold water and drain well.
Chop your cooked green beans to 1" size.
Chop your cooked carrots to 1/2" pieces.
If using frozen peas let them thaw but have them raw, Fresh peas just shell them and have them raw.
When everything is cool mix together the pasta, garlic, Beans, Carrots, Peas and onion.
Place in a covered container that will be large enough to add the pepperoni & dressing, refrigerate.
Chop your pepperoni to small bite size pieces and place it is a separate covered container and refrigerate.
Combine the yogurt, tarragon, honey, tabasco & cajun spice.
Mix well and place in a jar, refrigerate.
When heading for the picnic take the three containers along in a cooler with ice packs.
Just before serving mix the three containers together.
Happy picnic.