Peppered Chicken With Lemon-mushroom-wine Sauce
Prep 25 mins
Cook 12 mins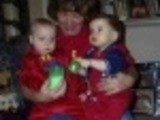 This is a recipe I have created for the RSC Contest for Winter 2005. I have made it a couple of times, modifying it some the second time. It is good served with pasta and vegetables. I hope you enjoy it. I think it will be low in calories also.
Directions
Saute the shallots and mushroom in 1 T of butter in a nonstick skillet over medium heat for about 4 minutes.
Add 1 cup of wine and 3/4 C of chicken broth and cook for 5 minutes, stirring frequently.
Remove the mushroom from the sauce to a small bowl.
Increase heat to high, cooking the wine mixture until it reduces to about 1/2 C (about 5-6 minutes), then pour over the mushrooms.
Decrease heat to medium high, sprinkle pepper generously over the chicken pieces and cook in 1 T of butter, in the same skillet, covered, for about 5-6 minutes per side, or until the chicken is done.
Place on a platter and keep warm.
Add 1/2 C of wine and the rest of the broth to the skillet and deglaze, boiling for about 1 minute.
Combine the cornstarch and lemon juice and add to the pan along with the basil leaves, and the retained mushroom sauce and bring to a boil for another minute, stirring constantly.
Serve the chicken pieces with the sauce spooned over them.
This tastes great served with pasta and vegetables.
Most Helpful
this is pretty good! Love the sauce! I found the directions a little complicated and could be made simpler. I browned the chicken first, removed from the pan, then cooked the shallots and mushroom (i used crimini). Then I made the sauce, reduced it and finally put everything (mushrooms and chicken) in the pan. Hope this makes sense; that way I only had to use 1 pan. Thanks for the delicous dinner! Good luck in the contest!

This recipe was very good, but one DH & I differed on in our evaluations. I liked the chicken coated in cracked black pepper the best, while he wasn't crazy about the amount of pepper I used. I thought the mushroom & wine sauce was very tasty and contained a good amount of mushrooms. To me they & the wine were the best part of the sauce. I did have to increase the cooking time in order to reduce the sauce properly. All in all a nice meal served with pasta, a salad, and bread sticks. Thanks chef!!

This was very good... I did have to add a little more corn starch because the sauce wasn't thick enough for me... but the taste was out of this world... Wonderful recipe and easy to make.