JustJanS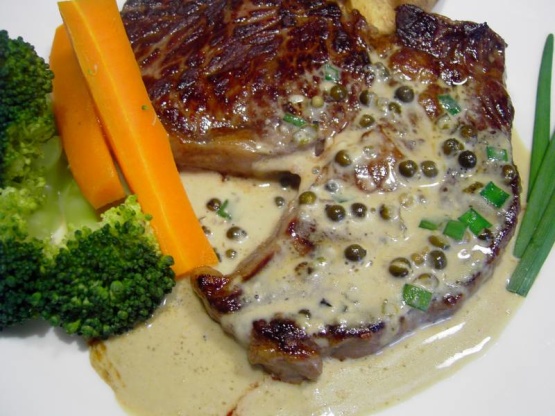 Another family favourite. I'm not giving cooking times for steaks, only sauce as it's up to you how you like your steak.

Is pepper steak this way not done in the US or something? Searched for pepper steak and got stir fries with peppers (or what Australians call capsicums). Found this one and noticed Jan is Aussie too!<br/>Now to review: We thought this was great. Easy and tastes indulgent. I made it exactly to recipe and it was lovely. Disagree with previous reviewer, I think the stock and worcester adds a real depth of flavour - thanks Jan
1

tablespoon oil

4

steaks (your favourite type and size)

3

tablespoons brandy

4

teaspoons green peppercorns (the ones canned in brine)

1

cup beef stock

1

cup cream (I always use low fat)

1

teaspoon Worcestershire sauce

2

teaspoons chopped chives
Heat the oil in a large pan and cook the steaks to your liking- (remembering they will have to rest and keep warm about 10 minutes, so they will continue to cook).
Remove the cooked steaks from the pan, and add the brandy allow a little of it to cook away, add the peppercorns to the pan and crush about half of them with the back of a fork.
Add the beef stock and cook over a high heat for a couple of minutes to reduce by about half.
Add the cream and continue to cook over a high heat for a few more minutes until this mixture has again reduced by half-or to a nice consistency.
Add the worchestershire sauce and the chives and serve over your steaks.