mikey ev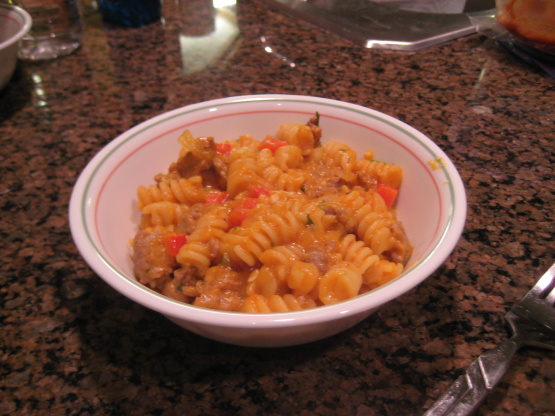 I had an abundance of pumpkins that I grew last year, so I tried this recipe from Gourmet Magazine and it was fantastic. The recipe calls for solid packed pumpkin, so feel free to use that if you don't have fresh pumpkin available. This recipe is scaled to serve 2, so adjust according to your needs. I hope you enjoy it!

I also made this recipe because I grew pumpkin (well, actually winter squash) this year and had a bumper crop. The pumpkin puree thickened up the sauce quite nicely, but as written it turned out pretty bland (for my tastes) and needed some doctoring up. I added a lot of salt and pepper and parmesan cheese. It could also be improved with some herbs or red pepper flakes or even Italian sausage. Thanks for the idea to use pumpkin in a pasta sauce.
In a large skillet cook the onion, bell pepper and garlic in the butter over moderate heat, stirring, until the vegetables are softened.
Stir in the pumpkin, broth, water, cream, nutmeg, and salt and pepper to taste.
Simmer the sauce, stirring occasionally, for 10 minutes.
While the sauce is simmering, in a kettle of boiling salted water, boil the penne until it is al dente.
Reserve 1 cup of the cooking water and drain penne well.
Add the penne to the sauce and cook the mixture over moderate heat, stirring and thinning with reserved water if needed, for 1 to 20 minutes or until pasta is well coated.
Stir parsley into pasta and serve with parmesan cheese, as desired.
Enjoy!