Pecan Crunch Pumpkin-Cheesecake Pie
jmr0231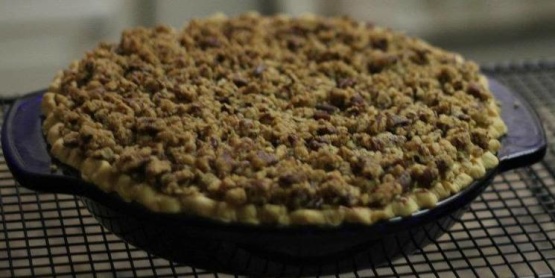 I've been baking this pie for years and was happy to find it posted on this site since my paper copy is quite tattered and the fine print has gotten so much harder to read in my old age. Ha, ha! This is my family's very favorite and most requested holiday dessert. I usually make a few to give to special friends & family and receive nothing but rave reviews from all who taste this yumminess.
In a medium mixing bowl beat cream cheese with an electric mixer on medium to high speed until smooth. With mixer on low to medium speed, beat in granulated sugar, vanilla, and 1 egg until smooth. Stir in lemon peel. Cover and chill for 30 minutes.
Meanwhile, prepare Pastry for Deep-Dish Pie. On a lightly floured surface, roll dough to a 13-inch circle. Ease pastry into a 9-inch deep-dish pie plate. Trim pastry to 1/2 inch beyond edge of plate; fold extra pastry under until even with the plates rim and crimp edges. Spoon cream-cheese mixture into the pastry-lined pie plate, spreading evenly.
In a medium mixing bowl stir together pumpkin, half-and-half or light cream, 1/2 cup brown sugar, 2 eggs, pumpkin pie spice, and salt. Carefully pour over cream cheese mixture.
Bake, loosely covered with foil, in a 350° oven for 30 minutes. Uncover; bake for 30 to 40 minutes more or until center is just set. In a small bowl combine 3 tablespoons brown sugar, flour, and butter. Stir in pecans. Sprinkle pecan mixture evenly over pie filling. Bake 10 to 15 minutes more or until topping starts to brown. Cool 1 hour on a wire rack. Chill at least 2 hours before serving. Serve with sweetened whipped cream. For longer storage, cover and keep refrigerated. Makes 8 to 10 servings.
Pastry for Deep-Dish Pie: In a medium bowl stir together 1 1/2 cups all-purpose flour and 1/4 teaspoon salt. Using a pastry blender, cut in 6 tablespoons shortening until the pieces are pea size. Sprinkle 1 tablespoon cold water over part of the flour mixture; gently toss with a fork. Push moistened dough to the side of bowl. Repeat, using 1 tablespoon water at a time, until all the flour is moistened (about 5 to 6 tablespoons total water). Form into a ball.