Kathy228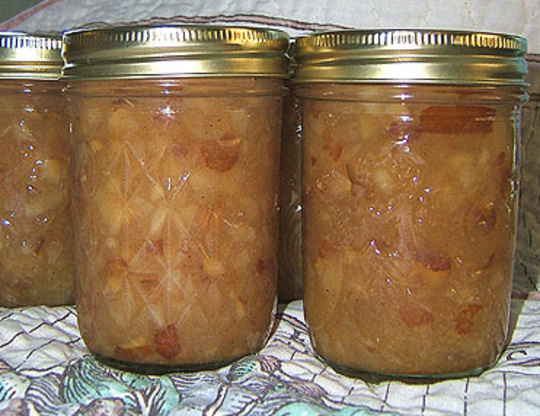 If you like the taste of cardamom you will love this jam. I used a combination of Bosc and Asian pears. I peeled the Asians, but not the Bosc. No-sugar dry pectin is used, so there's 50% less sugar in the recipe.

I followed the recipe and used some of the recommendation from the previous reviews. My husband liked the first batch I made yesterday, but he said it was too soft and it tasted a bite like apple sauce. So, this morning I used three medium pears that were left over (that by now were really ripe). I sliced them, but did not mashed them as indicated in the recipe. I emptied all the of the 4 oz. jars back into my new batch of pears and added more pectin, a pinch more ground ginger, cardamom and lemon juice. Everything came together just perfect. My husband ate it with crackers, cheddar cheese and walnut for lunch. He is still talking about how great it taste. This recipe will be used for the holiday gifts. Thank you for this recipe.
8 -9

pears, cored and chopped (peeling is optional)
1⁄4 cup lemon juice

1

(1 3/4 ounce) box pectin, Sure-Jell no-sugar, powdered
1⁄2 teaspoon cardamom, ground
1⁄4 teaspoon cinnamon, ground

1

tablespoon ginger, fresh grated

3

cups sugar
Place 5-1/2 to 6 cups chopped pears and the lemon juice in a heavy pot.
Mash pears with a potato masher to desired chunkiness. If you like it fine you can coarsely grind it. But a food processor will make it too pureed for this recipe.
Stir-in the powdered pectin, spices and ginger.
Bring to a boil and boil hard for one minute.
Add the sugar.
Bring back to a boil and boil hard for 4-minutes stirring frequently.
Ladle into sterile jars, seal and process for 10 minutes.
Yield 7 half pints.