Peanut Butter Rolo Cookies
flower7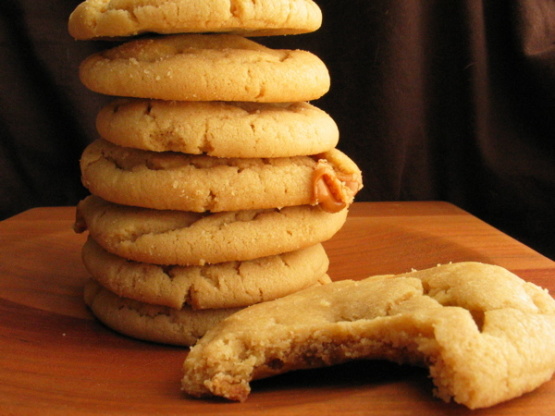 These are really good! I have made these for several different gatherings and they are always a hit!

These are wonderful! I had a little problem with the Rolos though - almost every cookie broke open either on the side or bottom and leaked caramel. Fortunately I'd baked them on parchment paper or I'd have had a big mess getting them off the pans - after they cooled on the paper I ran a knife underneath and they came right off. Another cookie I've made with Rolos inside had you freeze the candies before rolling them up in dough which worked better except they didn't melt down completely flat in the oven (so most of mine had humps in the middle). Either way works though, just depends how you want them to look! For this recipe I ended up with 46 cookies and 1 (12 oz) bag of Rolos equals about 57 candies. These are definitely worth making again - I will be trying it with chilled candies and frozen next time to see how that works. Thanks for the recipe!
Mix all ingredients together except rolo's.
When dough is mixed well, take a small amount, flatten out in hand, place rolo in middle and wrap dough around the rolo to form a ball.
Place on ungreased cookie sheet and bake at 350 for 12 minutes, or until cookie has flattened and rolo has melted.