Peanut Butter & Banana Loaf
AZPARZYCH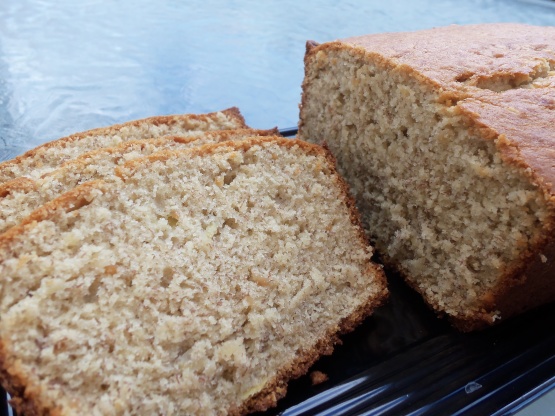 From Metropolitan Cookbook 1964...I love old cookbooks! I love the combination of peanut butter and bananas in this quick bread. (Edited to adjust the baking times to 35-45 minutes and not the original 1 hour. My oven it takes almost a complete 45 minutes where reviewers are baked in 35 minutes. Just check after 35 minutes so it does not get overbaked!)

This bread is soooooooo good! It is moist, full of banana and pb flavour and has such a crunchy crust! Mmmm! We LOVED this and could not stop eating it. Its like a sinful dessert.
I made some changes to make it a little healthier: I used half whole spelt flour, left out the shortening and used all natural pb. Also I felt that the bananas were sweet enough for my taste, so I only used 1/2 tbs of sugar, so that the bread had a nice fruity sweetness.
THANK YOU SO MUCH for sharing this delish treat with us, Mel!
Made and reviewed for Potluck Tag Game November 2010.
Preheat oven to 350°F.
Sift together the flour, baking powder, salt and baking soda and set aside.
Cream together the shortening and peanut butter; then add the sugar gradually while creaming -- continue to cream until light a fluffy.
Add eggs and beat well.
Stir in dry ingredients alternately with the mashed bananas; mix well but do not beat or overmix or you will get tough bread.
Spoon batter into well greased loaf pan 8x4x3.
Bake for 35-45 minutes or until pick inserted in the center comes out clean.