Peaches and Cream Dessert
ImPat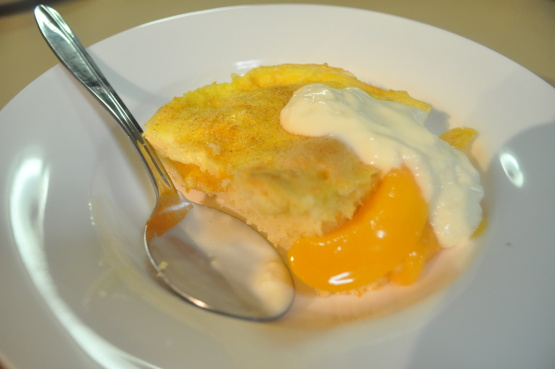 Sounds wonderful and other fruit could be used here I am sure.

Top Review by ImPat
What a lovely dessert this made, I scaled back for 2 serves for the DM and the DS and made in a small square corning dish but had enough for 4 serves (so it will be dessert again tonight for them). I did use an artificial sweetener in place for the sugar and the peaches were in natural juice and served with a creamy vanilla yoghurt. Thank you katew, made for Everyday A Holiday.
Beat butter, sugar, 1 egg, sifted flour and milk in bowl with electric mixer.
Beat till smooth and changed in colour.
Pour into greased ovenproof dish.
Top with peaches.
Bake in moderate oven 40 minutes.
Pour combined cream and extra 2 eggs over peaches.
Sprinkle with combined sugar and cinnamon.
Bake further 15 minutes or till set.