Pasta With Tomatoes, Smoked Bacon, and Arugula
Rita1652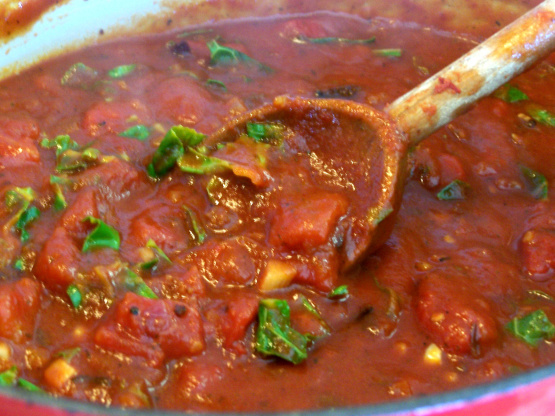 This bacon flavored pasta is smashing with the addition of arugula.Roasting the tomatoes enhances the texture and taste of the tomatoes. This is adapted from the restaurant "Aperto" in San Francisco.

OH YUMMY!! I skipped the roasting of the tomatoes to save time and made the dish in about 30 minutes. This has a fabulous combination of flavors... smokey bacon, peppery arugula, sweet tomatoes. The colors are very pretty too. I don't think I've ever had cooked arugula before. I'm hooked! Thanks for sharing.
For sauce:.
Place diced tomatoes in a larger strainer set over large bowl.
Let stand 15 minutes.
Reserve juice.
Drizzle rimmed baking sheet with 2 tablespoons olive oil.
Spread tomatoes in a single layer on baking sheet.
Sprinklewith salt and pepper.
Roast at 425 degrees until tomatoes are slightly caramelized, stirring evry 10 minutes, about 45 minutes.
Meanwhile, bring reserved tomato juice and 1 cup crushed tomatoes to boil in heavy medium saucepan.
Reduce heat to medium and simmer until reduced to 1-1/2 cups, about15 minutes.
Heat 2 tablespoons olive oil in large pot over medium heat.
Add onion and saute until browned, about 12 minutes.
Stir in reduced tomatoes and roasted tomatoes.
(Sauce can be made 3 days ahead.).
Cook bacon in heavy large skillet until crisp.
Transfer to paper towels to drain.
Pour off drippings from skillet.
Heat remaining 3 tablespoons oil in same skillet over medium heat.
Add garlic and red pepper and stir 1 minute.
Add tomato sauce and chicken broth and simmer 10 minutes to develop flavor.
Stir in bacon.
Add cooked pasta to sauce and the 1 cup Parmesan cheese and arugula.
Toss until arugula wilts.