Pasta With Chicken and Artichokes
vrvrvr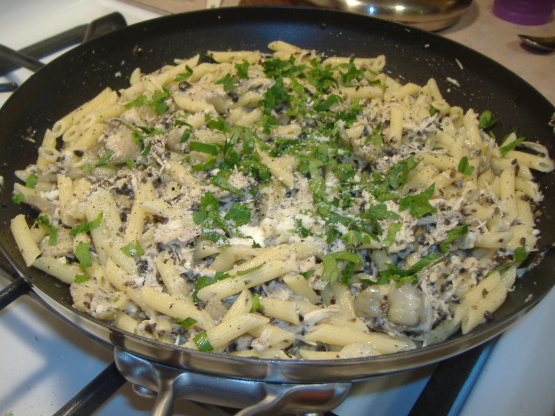 This is from All You Magazine. The combination of Fresh basil, artichoke hearts and olives really make this a flavorful dish! The original recipe called for up to a lb. of pasta. I reduced it to 12 oz. I also use whole wheat penne for more fiber and nutrients.

Top Review by vrvrvr
This was a delicious pasta entree and a nice diversion from heavy cream sauce. Very refreshing! I do think a pound of penne would overwhelm the chicken mixture; I used about 10 oz. pasta and it was almost too much. I also needed to add more chicken stock to keep the pasta moist. I used flat leaf Italian parsley in place of the fresh basil. (The basil would be great!) Next time I will add lemon zest. We really enjoyed this! Served with crunchy bread and steamed broccoli.
Bring a large pot of water to a boil over high heat. Add pasta and cook until tender.
While pasta is cooking, warm oil over medium heat in a large skillet. Add garlic and cook until fragrant, stirring, about 30 seconds. Stir in artichokes, olives, chicken broth, shredded chicken and 1/2 teaspoons salt and heat through.
Drain pasta in a colander. Return to pot and stir in chicken mixture and basil. Sprinkle with cheese and serve immediately.