Deb G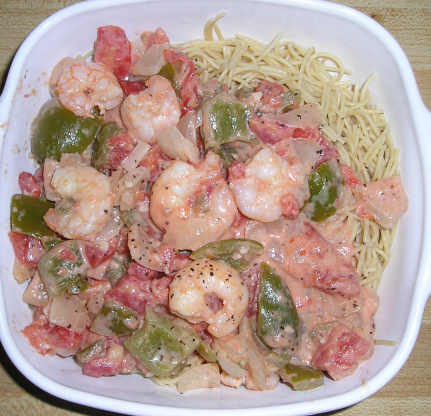 A versatile and quick gourmet dish - tastes equally good with chicken or scallops. I got this from the Land O' Lakes web site. (It always reminds me of eating out in Boston's North End.)
Cook linguini or spaghetti according to package directions, drain and set aside.
Meanwhile, Melt butter in 10" skillet until sizzling.
Add onion, shrimp, bell pepper,garlic, salt and pepper.
Cook over medium heat, stirring occasionally, until shrimp turn pink (6 to 7 min.).
Stir cream and flour together in small bowl until smooth.
Stir into shrimp mixture.
Continue cooking until mixture comes to a boil (about 1 minute).
Stir in tomatoes and basil.
Place hot cooked pasta in large pasta bowl or onto serving platter and top with shrimp mixture.
Sprinkle with parmesan cheese.