Pasta Shells With Gorgonzola Cheese Sauce
Janni402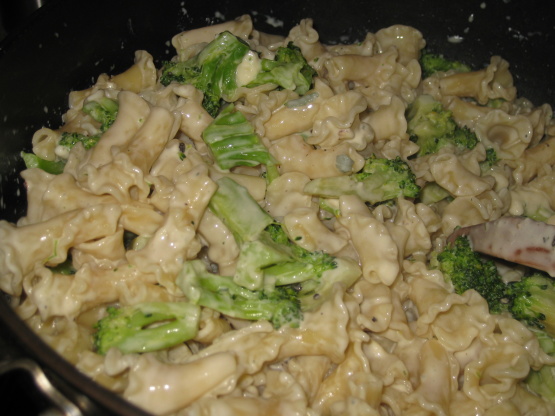 Here's a recipe that DH and I love. It makes a delicious, work-night meal and is great with a green salad dressed in a simple vinaigrette, or as a side dish with a grilled steak. The original recipe calls for salt but with the cheeses you probably won't need it - taste first, then add it if you like.

Made this tonite for a meatless meal & it was delicious. I used campanelle macaroni & added some broccoli florets. Made exactly as directed except I added a little extra cream to cut the sharpness of the gorgonzola & a couple of grinds of pepper. I, too, omitted the salt. Will assuredly make again.
In a large pot of boiling water, cook the pasta for 10 minutes, or until al dente.
Meanwhile, in a small saucepan, gently heat the Gorgonzola, milk and butter.
Stir with a wooden spoon to make a smooth sauce; stir in the cream and add salt if necessary.
Drain the pasta, shaking to remove excess water.
Combine the hot pasta and hot sauce in a large serving bowl, tossing until the pasta is well coated.
Serve immediately with grated Parmesan.