StevenHB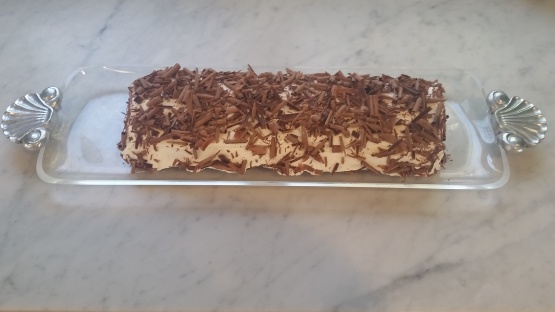 Must make this ahead of time. Freeze cake after rolling. Frost frozen cake with whipped cream just before serving. Very rich. Cut slices approx. 1 inch

This was always my mother's Passover dessert. I remember the first year she made it, many years ago, she was distraught that the roll broke when she first rolled it. I think that she remade it a couple of times before concluding that it didn't matter if the inner-most roll cracked, It would look fine once rolled, coated again, and cut regardless. 2017 is the first year that I'm making it (and I made two). Another thing not to worry about: the cocoa that mixes into the whipped cream when spread it on the cake before rolling. You're going to coat the opposite side, after rolling, with fresh whipped cream, which will not be cocoa-specked. Lastly, I found that I needed more than 3/4 cup of cream, whipped, to cover the inside of the cake before rolling (probably, I needed a full cup), so you should plan on a cup and a quarter or cup and a half of whipping cream per roll. Here are my two rolls, ready for the freezer.
Preheat oven to 350 degrees. Oil an 11 by 16 jelly roll pan. Line with waxed paper and oil the paper.
Beat egg yolks until light and fluffy and gradually add sugar. Continue beating until mixture is thick and pale in color.
Melt chocolate with coffee in saucepan over low heat and cool. Add to egg mixture. Beat egg whites into stiff peaks. Fold into mixture.
Spread batter evenly on baking sheet and bake for 15 to 20 mintues, until toothpick comes out dry. Leave out of oven for 10 minutes, then turn onto waxed paper (overlap 2 sheets if necessary to obtain 18 inch width). Let cool.
Remove waxed paper. If edges of cake are very dry, cut off edges with sharp knife. Dust top of cake with cocoa.
To make Filling: Beat cream with vanilla and sugar until peaks are slightly more than soft. Set aside 1/4 of whipped cream, and spread remainder on cake leaving about 1 inch of narrow side uncovered. Starting from opposite narrow side, roll up like jelly roll.
Frost top with remaining whipped cream. If desired, decorate with chocolate curls. Refrigerate or freeze.