Catnip46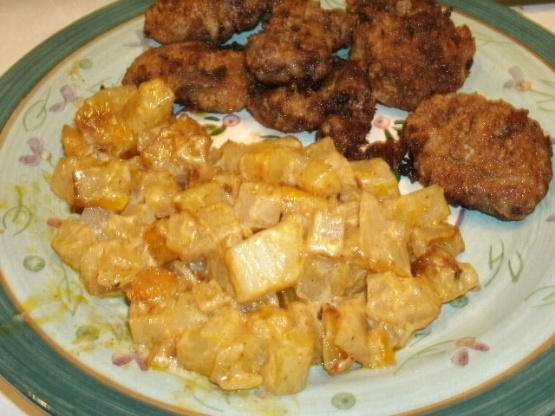 This is a simple 8 ingredient recipe. You probably have all the ingredients on hand for that last minute thought of having something just a little bit different. Easy recipe for beginners or those who have been cooking for sometime. I usually use less sour cream than called for, more bacon fat, and also salt & pepper the potatoes after they have been added in addition to adding salt & pepper to the sauce. Some times I don't use the parsley. Recipes are meant to be altered according to your taste. Feel free to do so. No need to add broth or any kind of liquid as this cooks up quite nicely as is. It's the low heat that eliminates the need for liquids.
Heat bacon fat in skillet.
Add onion to bacon fat and cook over low heat until almost tender.
Add to onions the paprika, salt and pepper.
Remove skillet from heat (this is a must) and blend sour cream into the fat and onions, stirring vigorously.
Add potatoes to sour cream mixture and mix gently and thoroughly.
Cover skillet and cook over low heat, about 30 minutes or until potatoes are just tender. Do Not Boil.
Occasionally turn potatoes in sauce.
Garnish with parsley, optional.