loof751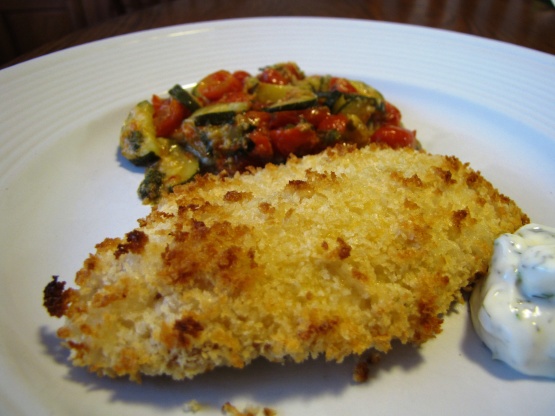 A lighter version of fried fish because its baked. The panko gives a light crust, but it still gets nice and crispy. Serve this with potato wedges that you lightly spray with olive oil, season and bake and you have a healthier, no fried version of fish and chips. Try this with the best, easiest tartar sauce ever Tartar Sauce That Makes You Scream... Oh Yes!!
I baked my fish filets on a rack and it came out nice and crispy on BOTH sides. I did add an extra five minutes to bake time also. Great, easy, healthy... can't ask for more!
Heat over to 450 degrees.
Spray large cookie sheet with cooking spray.
Beat egg and egg white into bowl.
Place panko in bowl with seasonings.
Dip fish into egg, then into panko, pressing panko into fish.
Place fish on cookie sheet, after all fish is coated, spray fish with cooking spray.
Bake for approximately 15 minutes until coating is nicely browned and fish flakes easily.