P.r.soup (Potato Rice Soup)
loof751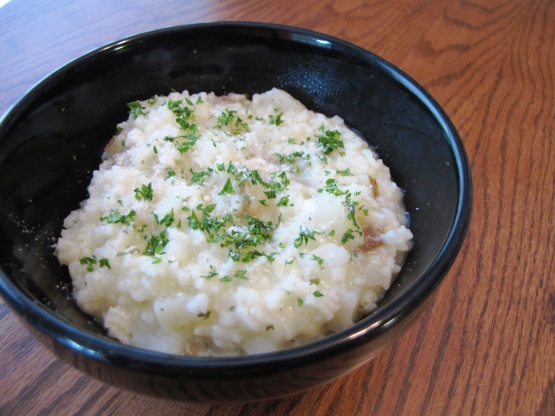 A Dom Deluise recipe. This actually dates back to the Depression era. It's inexpensive, tasty and good for you. Make sure you use uncooked rice in this recipe. Serve with additional grated cheese. Note: I've read the reviews and adjusted the liquid.

I turned this into a vegan dish by using vegetable stock instead of chicken broth and by omitting the parmesan cheese. I used brown rice, also. It was absolutely DELICIOUS and my 5 children ate the entire pot! Even my baby girl, who just turned 1, ate 3 bowls of it. Will definitely make this again, especially on those nights my fridge and pantry are bare and I only have staples - as was the case tonight.
Heat oil in a pot and saute garlic until golden brown.
Add onion, potato, rice, broth, parsley, and 2 cups water.
Stir, bring to a boil, reduce heat and simmer for 1 hour, stirring occasionally.
Add more water if soup appears too thick.
Stir in cheese and serve.