lets.eat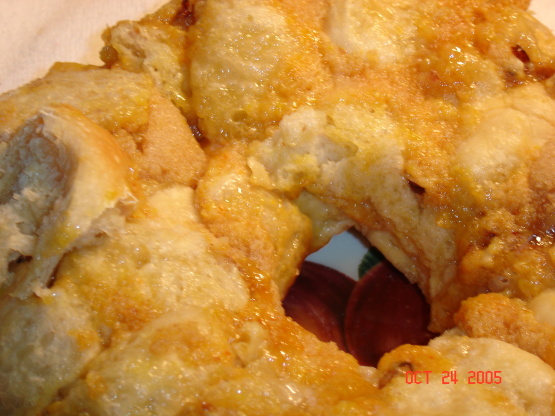 Easy to make the night before and pop in the oven morning of. My Great-Grandmother would make this for us every time we came to visit her. The rolls are balls of frozen dough (not thawed or cooked), I've always just bought them from the store, but I guess you could use homemade frozen rolls too.

I should have read the other reviews lol. Next time I will shake the rolls in the sugar mixture..other than that we were very pleased with the outcome!! DH was a little disappointed at first..that I didn't make my usual 'Monkey' bread..but was very happy with the outcome! Cutting the frozen dough was quite a challenge!! Thanks for the recipe!!
Cut frozen rolls in half and place in greased bundt pan.
Mix together pudding, brown sugar, cinnamon, and nuts.
Sprinkle mixture over rolls in pan.
Add remaining rolls and sprinkle remaining mixture over top.
Drizzle melted butter over top.
Let stand overnight, covered with a towel.
Cook at 350 degrees F for 25 minutes.