Overnight Baked French Toast
lizzy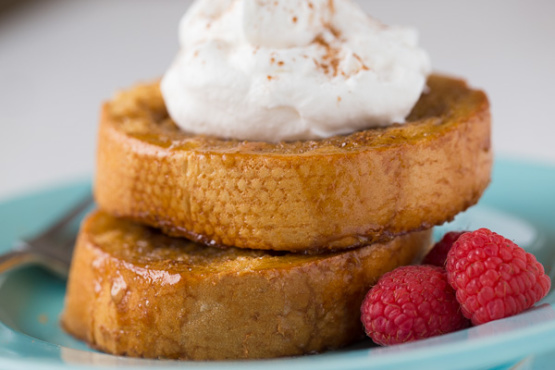 We tried this over the Christmas holidays and it was a hit! Love that it leaves the morning free from cooking during family get-togethers. It originally came from the Allrecipes site, and we made a few changes.
I've searched high and low for this exact recipe I recently experienced at a wedding brunch. SO amazing! I would have to up the output in one sitting because it was so popular and people ate countless servings but I plan to make it for my family soon. Kudos and many thanks to the originator!!!
Butter a 10x14 inch baking dish. Arrange the slices of bread in the bottom. In a large bowl, beat together eggs, milk, cream, vanilla and cinnamon. Pour over bread slices, cover, and refrigerate overnight, turning over after several hours.
The next morning, remove dish from refrigerator and sprinkle with cinnamon to taste. Preheat oven to 350 degrees F (175 degrees C). In a small saucepan, combine butter, brown sugar and corn syrup; heat until bubbling. Pour over bread and egg mixture. Bake in preheated oven, uncovered, for 25 minutes. Turn slices over and return dish to oven for an additional 15 minutes.