Oven Roasted Butternut Squash With Marsala
dicentra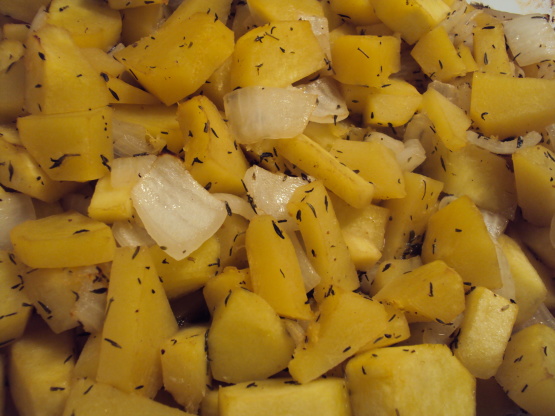 This was really good! I made it as a side to Recipe #81675 81675. I ended up roasting the squash and onion/spices on a baking sheet and then boiling the marsala in a sauce pan, instead of using the same pan for everything. Also, I used about 1/4 tsp ground nutmeg because I didn't have fresh. Other than that, I made no changes to the ingredients. My veggies had to roast about 35-40 minutes before they were lightly browned. Also, watch the marsala reduction closely---mine didn't need the full 15 minutes to turn to glaze and ended up burning and I had to start over with the marsala, carefully watching and stirring the second time--about 10-12 minutes. I enjoyed this recipe and think it would be very complimentary to most marsala chicken recipes. Thanks!
3

tablespoons olive oil

3

lbs butternut squash, peeled and cut into 3/4-inch dice

3

medium onions, coarsely chopped

1

tablespoon finely chopped thyme
1⁄2 teaspoon freshly grated nutmeg
salt & freshly ground black pepper

1

cup dry marsala

3

tablespoons finely chopped flat leaf parsley
Preheat the oven to 425°. Spread the oil in a large metal baking dish.
Add the squash, onions, thyme, nutmeg and a generous pinch each of salt and pepper and toss to coat.
Roast for 20 to 25 minutes, or until the squash and onions are tender and lightly browned. Transfer the vegetables to a serving bowl and set the pan over high heat.
Add the Marsala and cook until reduced to a glaze, about 15 minutes.
Pour the Marsala over the vegetables, sprinkle with the parsley and toss well. Keep warm until serving.