Caramelized Butternut Squash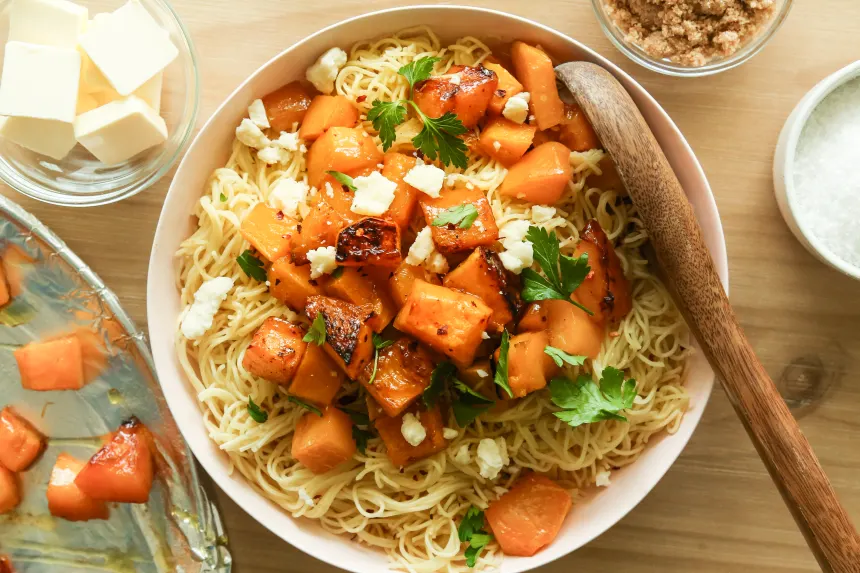 photo by Probably This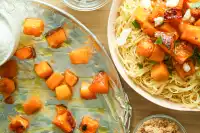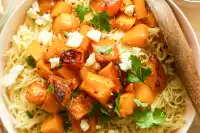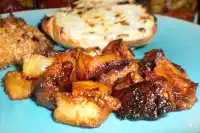 Ready In:

1hr 10mins

Ingredients:

5
directions
Preheat the oven to 400°F.
Cut off the ends of each butternut squash and discard.
Peel the squash and cut in half lengthwise.
Using a spoon, remove the seeds.
Cut the squash into 1 1/4" to 1 1/2" cubes (large and uniform is best), and place them on a baking sheet.
Add the melted butter, brown sugar, salt and pepper.
With clean hands, toss all of the ingredients together and spread out in a single layer on the baking sheet.
Roast for 45 minutes to 55 minutes, until the squash is tender and the glaze begins to caramelize.
Turn the squash while roasting a few times with a spatula to be sure it browns evenly.
Adjust seasonings if needed.
Serve hot.
Enjoy!
Reviews
This was delicious! Please be aware though, if you have never dealt with butternut squash (like me!), that you should wear plastic gloves when peeling or dicing. The squash made my hands swell and peel like acid had touched them. Apparently this is common with uncooked butternut squash. The recipe turned out great though and I will make it again (with the gloves this time!)

 

Being the daughter of a vegetable farmer I would say I have enjoyed my fair share of squash but this wasn't the best. Butternut squash really doesn't need to be peeled, it really is a total waste of your time. Mine didn't really caramelize, but I know that has to do with proportions so I am assuming I was a little off with the butter. My advice to others would be leave the skin on and add a touch of a spice of your choosing.

 

Wow! Where have I been that I haven't seen this recipe until today. I was going to make the same old boring squash in the oven, but saw this and decided to try it. It looked beautiful before I cooked it, but I wasn't sure how great it would be when finished. Well, it was amazing! It takes more time to prepare, but after having this way, I will never be able to go back. I cut the recipe in half for one large squash and it was perfect. Even used a bit less butter. Already thinking about making it for Thanksgiving. Thanks for posting!