Rita1652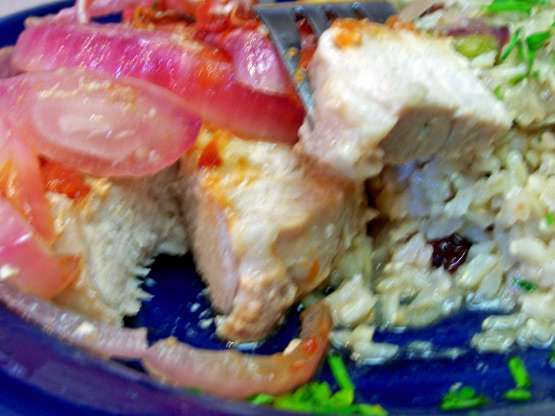 Another recipe of my mother's, very easy to prepare. Neither she nor I ever measured ingredients for this dish so the amounts given are approximate guesses. My favorite way to eat pork chops, and very popular with dinner guests. Tangy and moist! UPDATE: My sister recently reminded me that our mother, who invented this recipe, actually won a prize with it. We can't remember who sponsored the contest but the prize was a large silver serving spoon that was called a 'cranberry spoon.' (No cranberries in the recipe, though.)

I made 1/2 the recipe using sweet red onion following the rest of the directions. I found this should be made yes in a shallow pan also the chops should fit in the pan tight. For when you add the water and it`s a large pan you have an excess amount of liquid at the end result. Where if I had time I would have reduced stove top or added a roux to thicken and serve with the chops. Apple juice would be a delish substitute for the water. This recipe did have lots of sweet tangy flavor. Do baste a few times to keep the onions moist. Easy and very good!
Put chops in 1 or 2 shallow baking pan (s).
Sprinkle chops with brown sugar and salt.
Scatter with thin lemon slices (at least 1 per chop), then scatter onion rings over all.
Shake catsup over each chop; you need not totally cover it.
Run water into pans until chops are just covered.
Bake at low heat (about 325°) 1½ hours.
Remove chops to a platter to serve (chops cannot be served in the baking pan as there will be lots of liquid left over; just discard the liquid).