Oven Fried Chicken With Honey Butter Sauce I
Monica P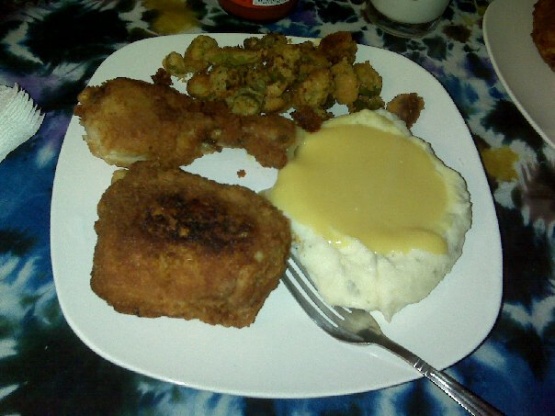 I've had this recipe for many years...not really sure where I found it though. This is a really delicious recipe that is quite messy so have plenty of napkins on hand! Enjoy!!

Delicious! I had enough chicken to do two casserole dishes of it (small dishes), and in one, I followed the recipe exactly, and in the other, I sprayed the chicken with cooking spray rather than coating in melted butter before baking, then followed the rest of the recipe exactly. Both pans of chicken were excellent, moist, and tasty (the sauce is just wonderful on biscuits, too). The one coated in the butter yielded crispier, slightly richer chicken, but the other was really good, too, and might be an option for those watching fat/calories. This recipe is extremely easy, unbelievably moist, and well, just delicious! I'm so glad it's added to my repertoire - thanks, Dreamgoddess!
Pour 1/2 c melted butter in a baking dish.
Combine flour, paprika, salt and pepper.
Dredge chicken pieces in the flour mixture.
Put chicken pieces in the baking dish and turn to coat with butter.
Cover and bake, meaty side down, at 400 degrees for 30 minutes.
Combine 1/4 c melted butter, lemon juice and honey.
After the chicken pieces have cooked for 30 minutes, turn the pieces over.
Pour the sauce over the chicken.
Bake uncovered for an additional 25-30 minutes or until chicken is done.