Oven-Baked Chinese Spareribs
Hey Jude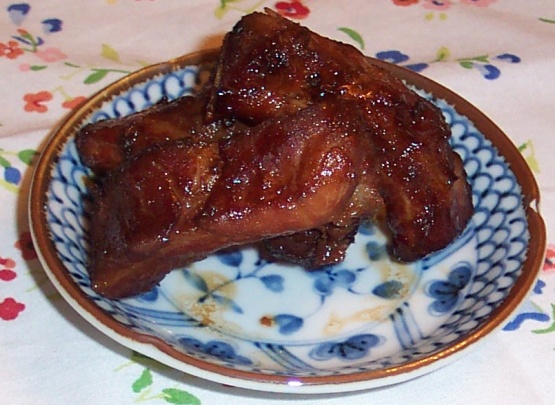 Get your butcher to cut your ribs in half lengthwise for this terrific rib recipe. This has been a hit at every party I've ever taken it to so now I just bring copies of the recipes with me when it's my turn to provide the appetizer. You can also make a meal out of these with some rice and flash-cooked greens. Prep time does not include marinading time.

I finally tried these Judy! They are way good! My 13 yr old was licking the marinade from the bottom of the mixing bowl so we wouldn't "waste" any. The whole house smelled amazing! I made a whole Costco pack of Pork ribs which is a lot but got started on them to late. They only marinated on Christmas eve for 4-5 hours but were still good. I left the other 1/2 in the marinade for about 36 hours and then simmered the remaining marinaide in a sauce pan while they were cooking. When they came out of the oven I poured the marinaide over them and coated them in it. Lots of flavor ( I did add more garlic cause you can never have to much :)
Combine all ingredients except meat and pour into a heavy-duty plastic reclosable bag.
Add spareribs.
Marinate overnight, turning several times.
Line a shallow pan with aluminum foil.
Preheat oven to 350°.
Roast spareribs 45 minutes.
Turn heat to 325°.
Roast 15 minutes longer.
When shrinkage occurs, ribs are done.